While Scooter is in hospital with pneumonia, I do not need a sick Tiger.  But he kept lying down yesterday, as we spent all day long putting a floor in the tackroom, and extending the walls up to the ceiling in a bid to keep the arena/hay dust out of everything we own.
Char worked, cleaning a year's worth of thick, fine dust off of everything I'd hauled out onto the drive, until Guy brought her a disinfectant (having gone with M to Home Depot for supplies).  She used the stuff, and it burned the first two layers of skin off her hands.  Fun.
So she spent some time riding Dustin – first bareback in halter, then with the saddle, since he wanted to trot.  And you don't trot on Dustin without a nice think pad and a saddle between you and his spine.  That was when we noticed that Tiger was dull, and kept lying down.
 At first, I thought it was just the nice afternoon.  So I sat on him, later to be overcome with guilt, thinking he hadn't been feeling well.  I rode him up, and it was cool – Murphy applauded me,  sitting on an "unbroke" pony as he went from supine to upright.  And it was actually really fun.  Once he was upright with me still sitting him, he got confused.  Started to take a step forward.  Stopped.  Just like – "What am I supposed to do now?"  Then I slid off.
Later, I could see that his flank was all tucked up, and kind of rippling from time to time – to the tune of interesting gastro intestinal noises.  Temp: 99.9  Respiration: 32/min  Heart rate: 36/min  Capillary refill: 4 secs
So I put him in the jail with water, and we all went home, cleaned up and went to Cocolitos for birthday dinner.  Took some to the kids in the hospital.  Went back to look for poop, which I was prayerfully grateful to find.  No horses dying of a torqued bowel tonight.
Today, I checked Sophie's feet after their 40 minutes on the grass.  There is definitely a pulse in all four now.   Quick but not pounding.  I'm not sure how to go.  Tomorrow, I may keep her off most of the time.  I also need to check the others.  The wild bunch.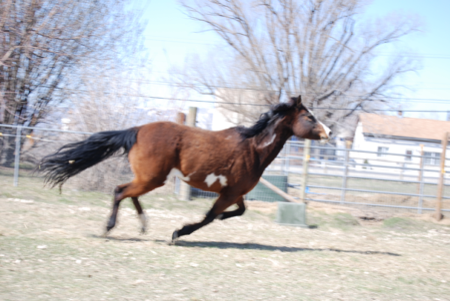 G read that a woman was killed, run over by her spooked horses when she went out to water them.  It could happen any day to anyone.  The other day, I was brushing Tiger, and followed him into his stall on the end of the barn.  Jetta was in there, too.  I had my back to the inside of the barn, one eye on Jetta, who suddenly ducked her head and turned away.  And I was being hit from behind, shoved, the way a wave shoves you, that great uniform strength just moving you forward.
I yelled, shocked to find that somehow, Zion had gotten into that space with us, behind me. Like, why hadn't I noticed?  And when Dustin took three steps out of his stall, all hell broke loose with these three, crowded into the 12 x 12 with me.  Zion pushed me about three steps before I was able to slip to the side.  When he squeezed out past me, I slapped him hard with the shedding blade, yelling.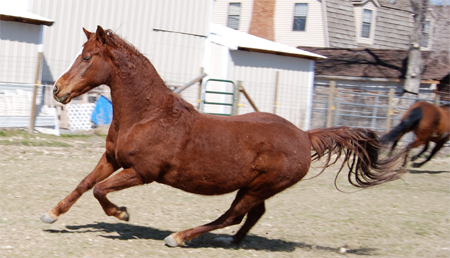 And then I went after the surprised and now dismayed Dustin.  "Don't you MOVE when I'm in the middle of the rest of them," I shouted, admittedly unfairly, shaking my finger in his face. When I turned around, there was Sophie, standing over at the far side of the jail, watching it all.  And behind her, only eyes and ears showing over her back, was Zion, evidently hiding from me.  The dork.
Not dead then, me, today.  And it was just luck.